P.E.T. your dog now offers training in CPR, First Aid & Care For Your Pets.  Please register for a class on the following list or contact us for more information.
Please see bottom of page for cancellation/refund policy.
City
State
Date
Class Type
Price
Register
There are no classes scheduled at this time. Please check back soon for updates.
Pet CPR & First Aid classes last 5 hours. PetSaver classes last 8 hours.
Please follow the "Register Here" link for class start time.
Roseville classes will be held at:
Pet Food Express (map)
1009 Galleria Blvd.
Roseville, CA 95678
(Fountain's at Roseville)
About the Class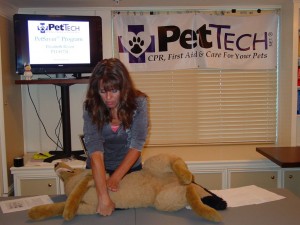 This class is perfect for pet owners and Pet Care Professionals.  The Training is taught by lecture, demonstration and hands-on skill practice.  The class includes a hand-book and upon successful completion, each participant will receive a certificate.
Some of the topics highlighted in the Pet CPR & First Aid class include the following:
Restraining Your Pet
Pet CPR
Rescue Breathing
Choking Management
Wellness Assessment
Heat Injuries
Poisoning
Bleeding Protocols
Bites and Stings
Injury Assessment
In addition to the above, the 8-hour PetSaver class adds:
Dental Care For Your Pets
Caring For Your Senior Pet-izen
Cancellation/Refund Policy
If for any reason you are not able to attend a class, please notify us in advance and we will be happy to roll your registration to another date at no charge. If you wish a refund instead, please contact us as soon as possible. Refund requests submitted no less than 24 hours prior to class will incur a $5 processing fee. There will be a $10 fee on requests submitted less than 24 hours prior. No refund will be issued if your request is submitted after the class begins.